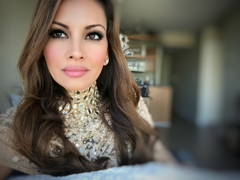 Say goodbye to long beauty routines. We simplified it for you.
In todays world, everyone's so busy but we still want to look good. How can you achieve putting your best foot forward without having to spend a lot of time on your makeup? I've simplified it for you.

Working as a celebrity makeup artist taught me a few tips on breaking down a makeup and skincare routine to mere minutes. I definitely worked with my share of celebs that would saunter in late (and hungover!) giving me no time to get them camera ready. Working in a lab formulating products, took simplifying beauty it to an entire new level.
I started sharing those tips on shows like Dr. Oz, The Today Show and The Doctors. One of my favorite segments was showing a group of women how to do their makeup in 60 seconds. It's not for everyone, but it can be accomplished!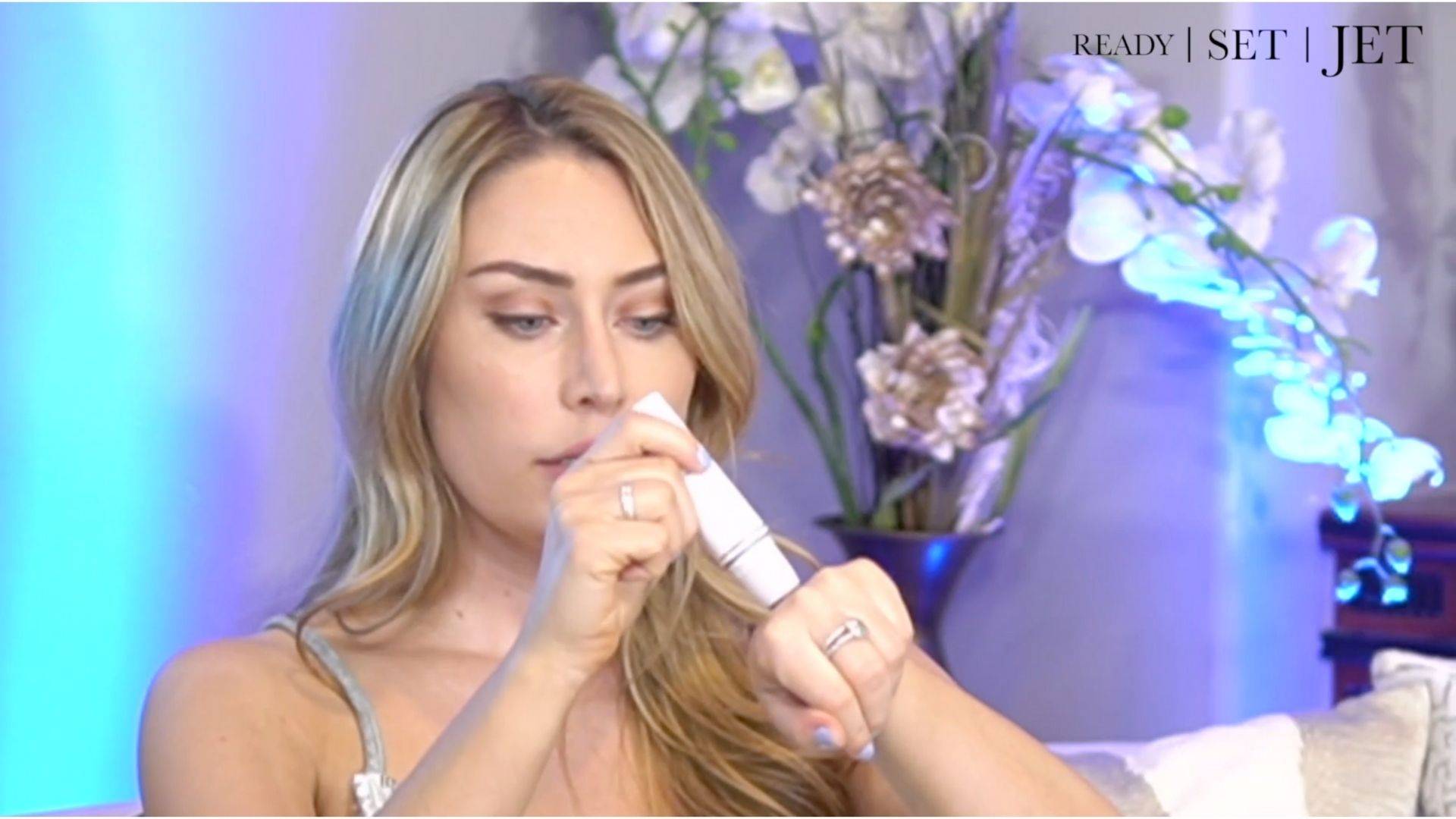 "Opt for hybrid products that replace one or more products and act as double duty beauty ."
This look really concentrates on quickly evening out your skin tone and picking a feature and making it pop.
Step 1:
Even out your skin tone, fill in fine lines and pores and set the foundation of your skin with a good primer. I love the one I created for Ready Set Jet because I added a few extra secrets in there to give you more bang for your buck. In our primer, you have skincare built in like anti-aging golden seaweed and marine fennel, so you can skip the moisturizer, you also have a watrless makeup remover on the other side that helps you take your face off as fast as you put it on! You'll notice it's also tinted a sheer purple - this is a secret I used on my celebs on set to create an optical illusion. The purple bounces light, almost like you have your own lighting guy following you around town. It's a trick to instantly blur the appearance of spots, lines and pores.
Step 2:
Spot touch and go. Use a foundation or concealer just in the areas you need coverage the most. Under eyes, around the nose, forehead and any other areas you feel you need extra coverage. By using it this way your skin will look youthful and you won't get bogged down in time blending it out. The primer allows you to use 1/2 the product and you will see it blend out across a bigger area.
Step 3:
Next thing we want to focus on is bringing some color to the skin to wake you up and add a healthy glow. You can achieve this two ways, with a bronzer or with a crème blush. I love products that have multiple uses, which is why I created ourLip and Cheek Add On's in a universal pink and red.

Quickly smile and add either to the apple of your cheeks. If you use the lip and cheek stain use your fingers to apply to your lips as well. If you want a glossy look apply the primer below it. You can also add a little color to your temples and even on your eyes as an eyeshadow.
When I formulated the lip and cheek stains, I made them very high in pigment so you could build into the look you wanted and so they would wear all day. Because of this, it's super easy to apply and blends easily for goof proof application. The colors are also really pretty on all skin tones.
Lastly we really want to focus on your lips – again for giving you an instant boost of color. Again use the same lip and cheek stain and if you're going for a more youthful look, apply this over a balm. For me, a glossy look is the easiest way to achieve this because it reflects light and is easy to apply.
Step 4:
For the final step, use a good black mascara to frame your eyes. I'm in the process of formulating an amazing one for you but in the meantime, I still have my favorite that I've used on set and on myself - The L'Oreal Voluminous Mascara in black or blackest black.
Now you're Ready to Set to Jet out the door in under 5 minutes!
What's included in Ready Set Jet's Beauty Baton's?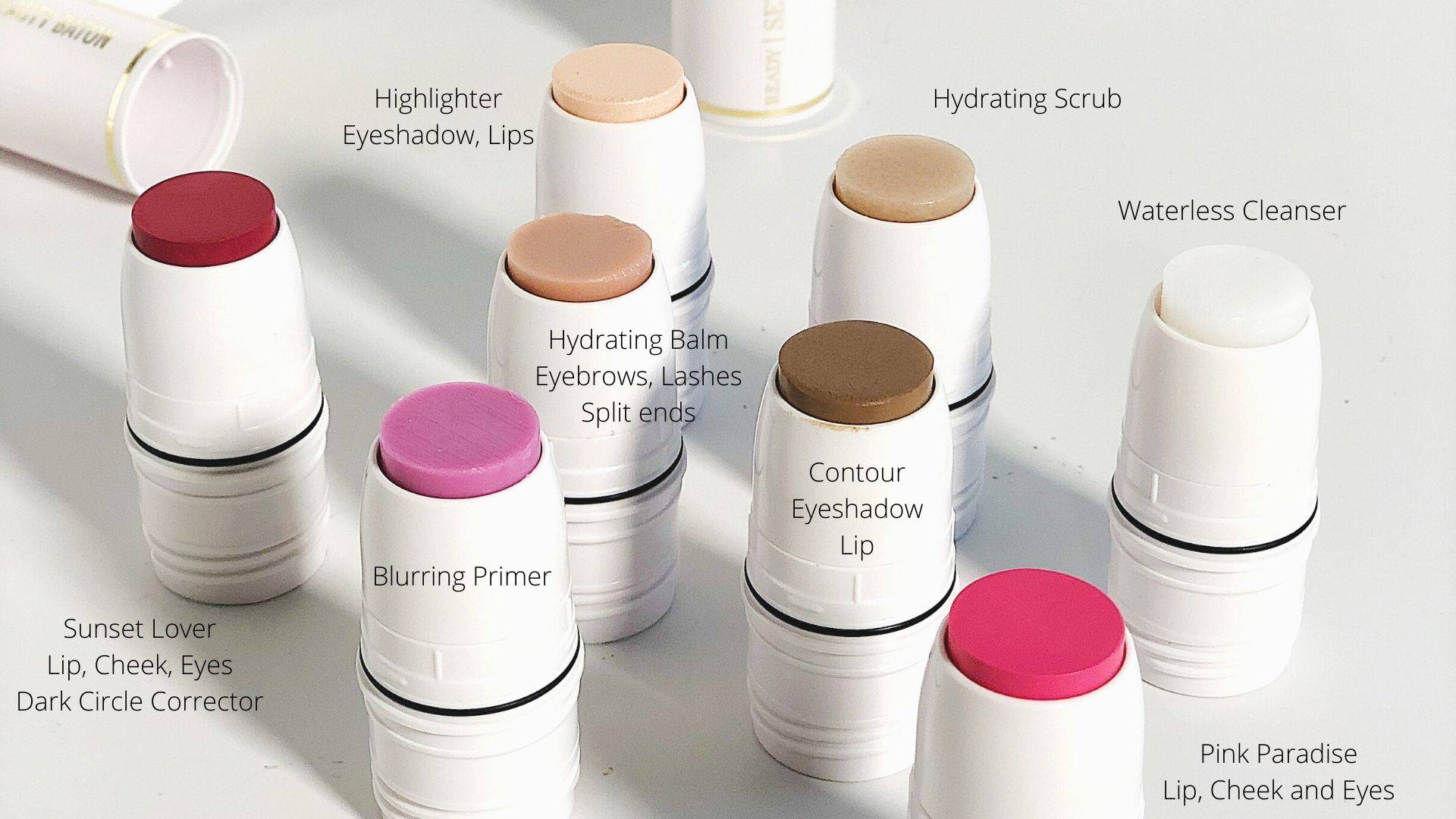 Skincare In Every Formula

I believe in getting the most out of your products. Every formula contains vegan powered anti-pollution, anti-aging and anti-inflammatory skin care. Treat your skin with the power of marine botanicals like golden seaweed, marine fennel and algae. Radiance and glow will become your new mantra.

High Pigment Loads With Buildable Application

You should be able to control your makeup, not the other way around. All our shades are high in pigment meaning they wear well (don't fade in an hour) and are beautiful on any skin tone. You can go sheer by using your fingers or build to your desired look (dramatic) by using a brush or applying direct.

You're Paying It Forward

I created this brand to empower women. Your purchase goes to helping an underserved girl or women get the skills she needs to kick ass. We should all have the opportunity to live out our dreams. Ready Set Jet gives every woman the ability to aim high and soar into her life.